After seeing your BudDoc for your face-to-face evaluation, we will enter you into the Medical Marijuana Use Registry (OMMU). The next step is completing the State's required application for an Office of Medical Marijuana Use Registry Identification Card.
You have two options for completing your application – online or by mail. When submitting by mail, the OMMU must manually scan your items increasing your processing time. Online applications require you to upload digital copies of the required items.
ITEMS NEEDED:
$75 payment (can be paid online)
Passport photo pulled from the DMV *
Registry account access (emailed to you from the State)
*You should not need a passport photo if you have a valid Florida Driver's License or Fl State ID card.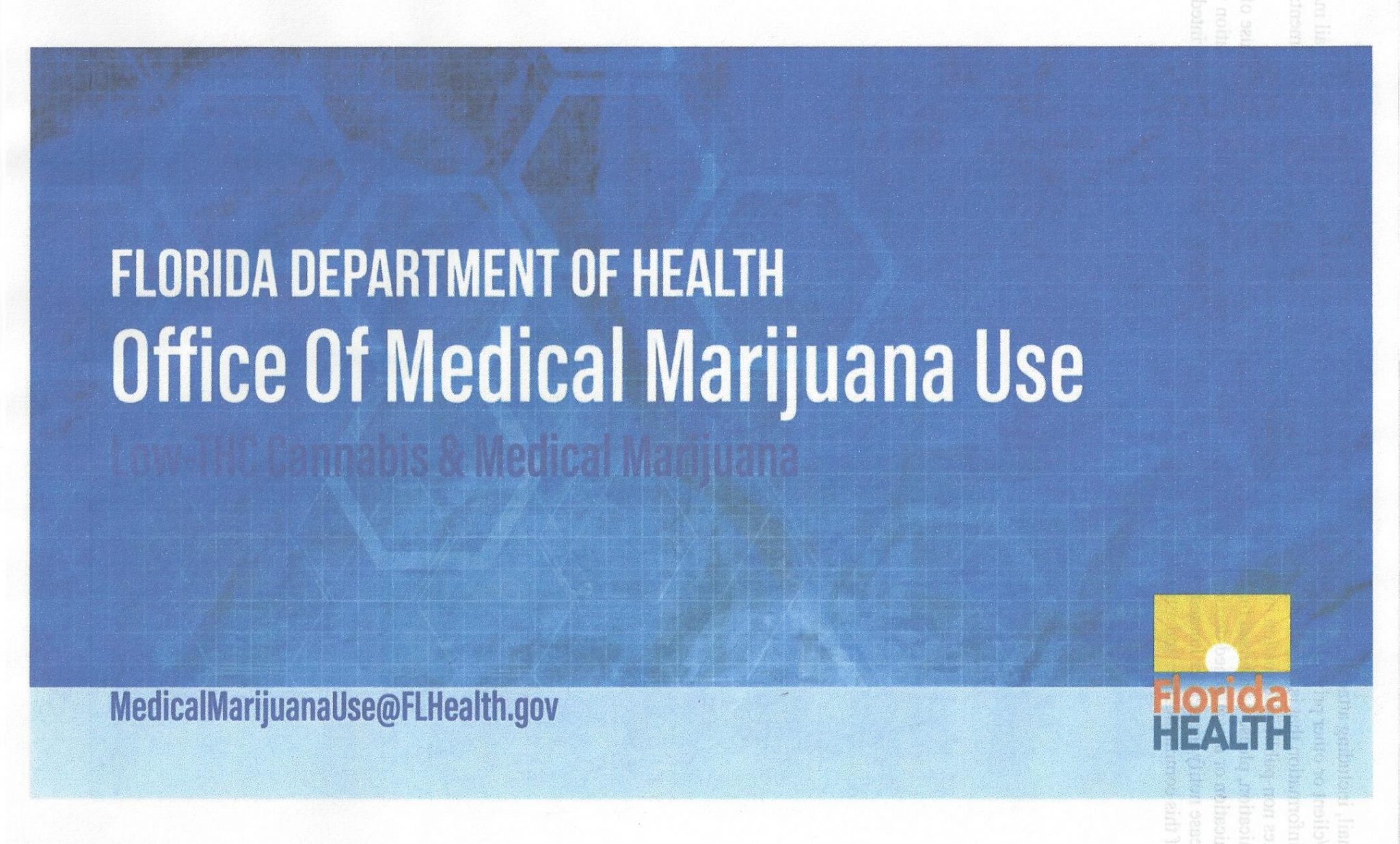 COMPLETING THE ONLINE APPLICATION!
Once we enter you into the registry, you will receive an email from the Office of Medical Marijuana Use alerting you that an account has been created.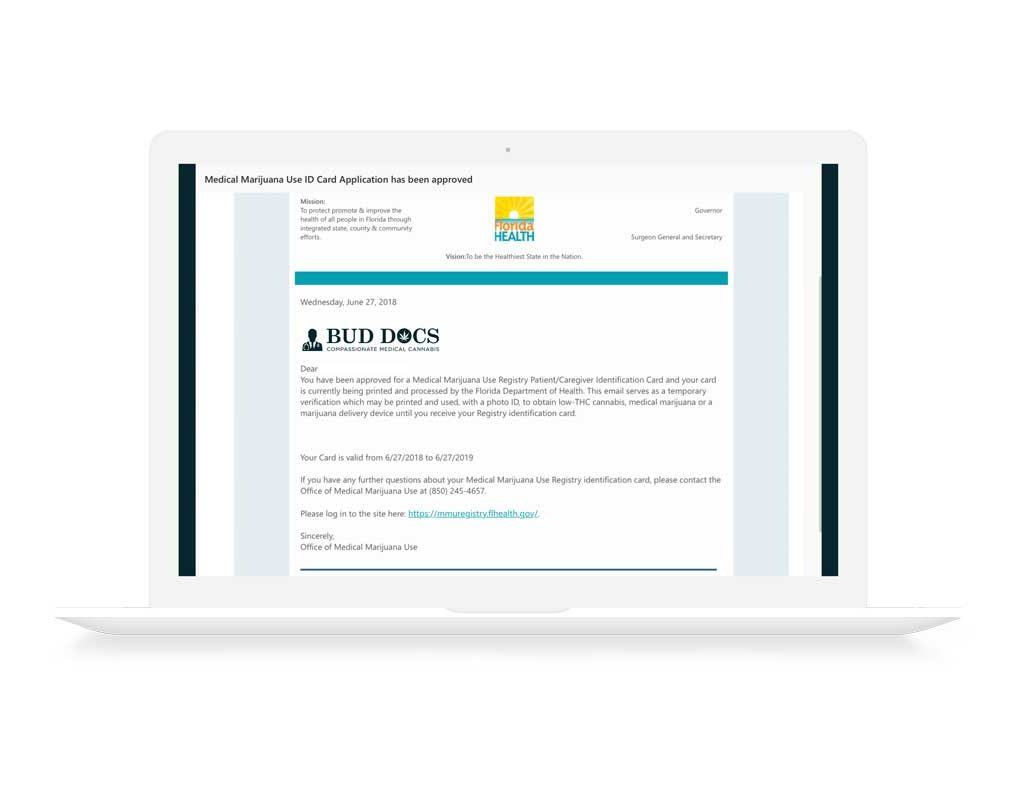 You will receive a second email with your temporary password. Follow the directions in the email to log in to your account and create your permanent password.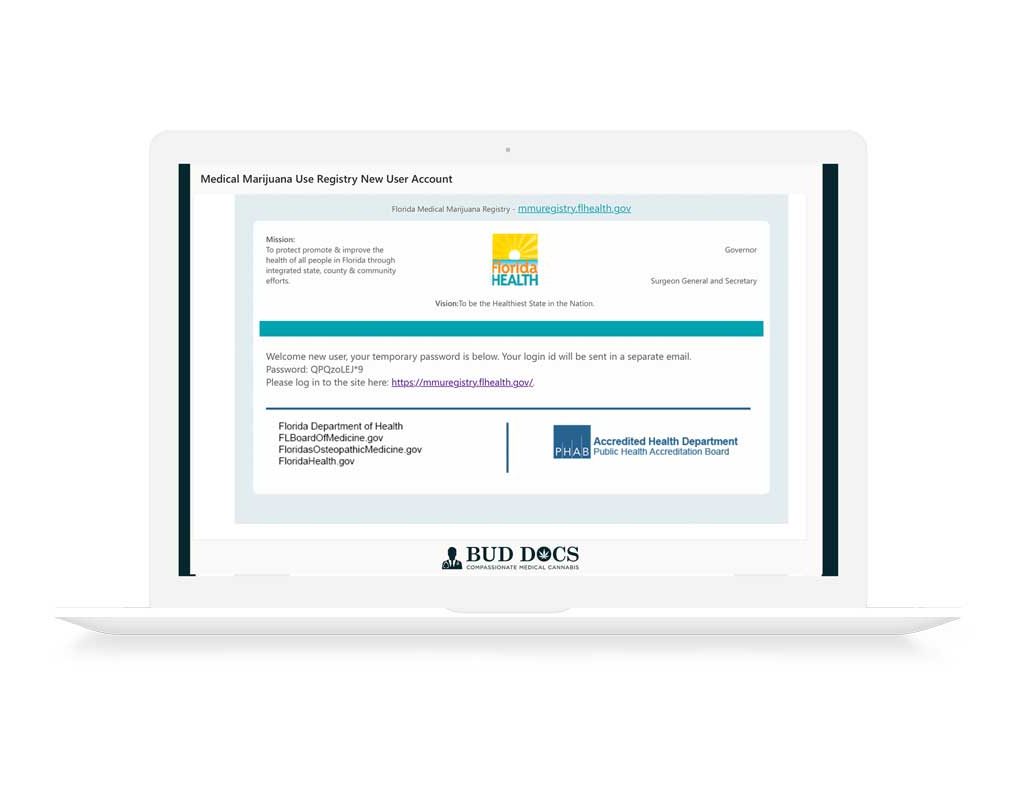 Once in the registry, click on the YOUR CARD tab. Read through the application, completing each of the below steps. Your PROOF of RESIDENCY will be verified thorough the DMV. Just follow the instructions on the screen.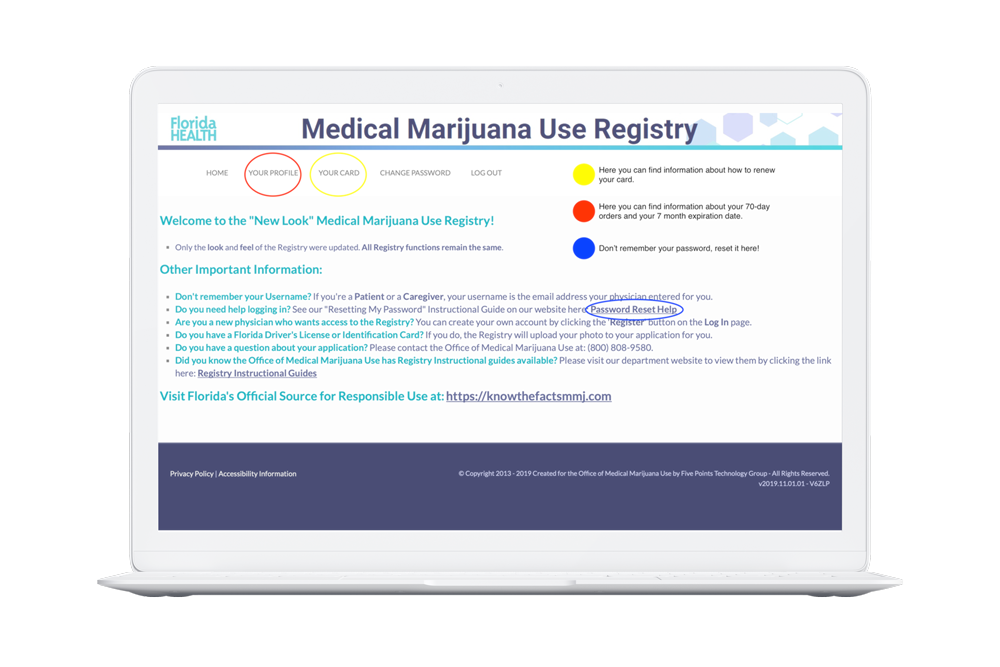 You will see a confirmation when items upload successfully. If you do not see your driver's license photo and instead see a grey box labeled 192×192 you will need to upload a passport-style photo.
See tips below:
✅ Photo and proof of residency (If you are a Fl resident these will be pulled from your DMV records)
✅ Sign at the bottom by typing your name as it appears on your DL or ID and submit your application
✅ Scroll back up to the payment section and complete your payment of $75 plus tax. Debit/Credit card is recommended for the quickest processing. Alternatively, you can mail payment with your patient number to:
Office of Medical Marijuana Use
PO Box 31313
Tampa, FL 33631-3313
COMPLETING THE PAPER APPLICATION
Download and print the required.
Fill out ALL sections clearly and legibly. Sign and date this last page of the application – DO NOT FORGET THIS STEP or your application will be returned.
Staple your passport photo to the application as indicated. Be careful to not staple through your face or bend the photo.
Mail your application (including photo), proof of residency, and $75 check or money order (payable to the Department of Health) to the OMMU. Write your patient number on the check.
Office of Medical Marijuana Use
PO Box 31313
Tampa, FL 33631-3313
TROUBLESHOOTING TIPS
If you do not receive an approval or rejection within 3 weeks of application call the card processing office at 1-800-808-9580 to check on the status.
If you receive an email or mail notification that your photo has been rejected and you think this is incorrect make sure the photo is uploaded to your registry profile.
If it's not, upload it yourself. Then contact the OMMU and ask them what needs to be corrected.
If you are doing paper application, DO NOT FORGET TO SIGN IT. The signature line prints on the second page and is easily overlooked. It's a common reason why application processing is delayed, so be mindful to get it right the first time.
Spend the time that you are waiting to receive your card learning about available products and the purchasing process. Check out our blog for resources. Card Status Updates: 800-808-9580