How to Get a Medical Marijuana Card in Florida!
Conditions that might qualify you!
The following condition are not part of the Florida's Amendement 2 but could qualify you if they are debilitating in nature. If you are not sure if you qualify, complete our free screening evaluation. 
Alzheimer's
Anorexia
Anxiety
Arthritis (Other)
Autism
Chronic Pain (any kind)
Cerebral Palsy
Chemotherapy Side Effects
Dementia
Depression
Diabetes
Dystonia
Fibromyalgia
Essential Tremor (Kinetic)
Hepatitis C
Inflammatory Bowel Disease
Insomnia
Irritable Bowel Syndrome
Lyme Disease
Meniere's Disease
Migraine Headaches
Muscle Spasms
Muscular Dystrophy
Myasthenia Gravis (MG)
Neuropathy
Osteoarthritis
Psoriasis
Radiation Therapy Side Effects
Restless Leg Syndrome
Rheumatoid Arthritis
Seizures
Sickle Cell Anemia
Spinal Cord Injury
Tourette's
Traumatic Brain Injury
Ulcerative Colitis (UC)
Complete our online free screening evaluation to see if you qualify for a Medical Marijuana Card in the state of Florida. If you do, we will send you an email with new patient paperwork and call you to schedule your appointment.
Face to face evaluation including a physical exam, review of medical history, benefits and risk of medical cannabis. Patients must present a valid Florida ID, medical records supporting their condition along with the physician visit fee. Usually last 30 min. and can be done at one of our offices/events or in the comfort of the patients home.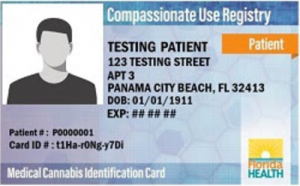 Register And
Get Your Card
During your initial appointment we will help you complete your Medical Marijuana card application and, after the states reviews your card application you will get a temporary card in 8-10 days via e-mail that allows you to purchase medicine. Pick a dispensary from our list and get medicated. 
Fall in Love With
Our Features
Quick and Easy
Patients can be seen usually the same week and we help them through the entire process including their card Medical Marijuana card application.
Don't qualify? Don't pay.
If, for whatever reason, our BudDocs determine you don't qualify, you will not pay a dime.
Confidential
Secure and HIPAA compliant forms, trained staff, along with a home visit. It does not get more confidential than that.
No Hidden Fees
We are as transparent as possible, all our fees are posted so patients always know how much they owe.
210-day recommendation
Three 70-day electronic orders and no unnecessary follow ups. Each order usually with low THC and High THC options.
Smokable Cannabis
Our BudDocs really understand how Medical Cannabis works. If patients meet the requirements we will add Smokable to their order FREE of charge.
Want To Learn More
About Cannabis
Visit our blog for the latest Cannabis news in Florida!
We have an office in Lake Mary and do events all over Florida providing patients an excellent service at an affordable price. 
Our home visiting service gives patients the ultimate in comfort and privacy. Not only do you get certified the same day, but we also help you complete your Medical Marijuana card application during the appointment.
Office visit/Events
Full Medical Cannabis Recommendation

Includes three 70-day orders

No hidden fees or unnecessary follow ups
Home Visit
In the comfort of your home

Ultimate in comfort and confidentiality

Includes three 70-day orders

Help you through the entire process

Quick, Easy, and Confidential
Frequently
Asked Questions
Very knowledgeable and helpful. I was able to get my card quickly without any issues.

Scott lemke


BudDoc was very helpful and he explained everything very thoroughly. His knowledge on the medical cannabis is super good made it easy to get what I needed!

Janet detres


Dr Chanlatte is amazing!! He answered any and all questions I had about medical marijuana. I was able to have a home visit, he made me feel comfortable and was very thorough!! I definitely recommend using BudDocs!!!

Tiffany Dobbs


Awesome Dr. very thorough and informative! Takes time to answer any questions and concerns. Highly recommend.

k.i.d.