Releaf App is a free iOS and Android mobile app to help you track, learn from, and improve your use of cannabis. Everything you track is 100% anonymous. The data that is collected in Releaf app is used for multiple research studies and helps us identify what products our patients are finding most effective. You can download the Releaf App for free by scanning this QR code with the camera on your smartphone, or by visiting releaf.at/buddocs. Make sure to join the "buddocs" group.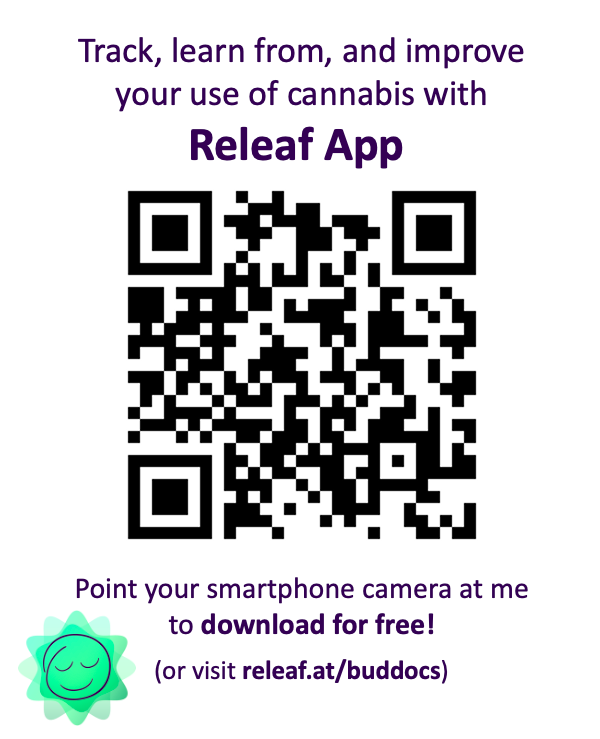 In Releaf App you can easily track what product you used and how effective it was for you in a quick and easy way. Releaf's Quick-Log feature allows you to track real time, and historic, outcomes without having to do minute-by-minute reporting. With a few quick taps select the product you used, why you used it, and how effective it was for you.
---
GETTING STARTED
BudDocs patients are encouraged to track their medical cannabis experiences by downloading the Releaf app with group code "buddocs." By downloading and using the free Releaf app, BudDocs patients can share personalized data insights and reports with their Buddoc to help evaluate, understand, and manage their use of cannabis as a health and wellness tool.
To start:
Go to "More > My groups"
Tap the + icon
Enter the code: buddocs
Note: The group code ("buddocs") is case sensitive, so please use all lowercase letters.
Common Patient Questions
Will this cost me any money?
No. Releaf App is 100% free.
What happens to my data after I enter it in the Releaf App?
Most importantly, everything you enter in the Releaf App is 100% anonymous. No identification information is shared. You are the owner of your data, and you can delete your account at any time. The data you recorde is used to support multiple research studies, inform industry best practices, and help patients and consumers find effective options for them.
Can I use the Releaf App to track CBD products too?
Yes. Releaf App works just the same for THC and CBD products.
Who owns Releaf App?
Releaf App is a private company created by a passionate team of entrepreneurs and technology experts in Maryland, Colorado, and Pennsylvania. You can learn more about the Releaf App by visiting releafapp.com/about.
Will Releaf App help me find products in the state?
In April you will be able to search the Releaf App to find what products in your area and across the state others have reported as effective or beneficial for specific reasons.
Who do I reach out to if I have questions or problems using the Releaf App?
You can reach out to Franco and Tyler at Releaf App by emailing them at

[email protected]

. They will be happy to help answer any questions regarding the Releaf App for you.