There are 2 main ways of how it treats pain, CBD works via the Anti-inflammatory route while THC works via antinociceptive and anti-hyperalgesic effects at the peripheral and central levels, as has been demonstrated in acute and chronic pain models.
The most important thing is to keep in mind that every person is different and what works for one person might not have the same efficacy on others. We recommend trying several of these suggestions and maybe even experiment with them in different forms, like topicals, oils, or even transdermal patches. Smoking and vaporizing are good ways to get the plant's painkilling properties quickly and gives the patient the full entourage effect.

1. ACDC
ACDC is a very effective hybrid strain with a high concentration of CBD and THC and it's usually in every list to treat pain. Medical cannabis strains with a chemical profile high in both CBD and THC may offer a similar, uplifting pain-relief experience.

2. Blue Dream
Blueberry indica and sativa Haze mixed to create a hybrid for fighting pain. Blue Dream claims to produce full-body relaxation coupled with mental alertness. As a result, it's become popular for people looking to manage chronic pain during the day. Its sweet berry aroma doesn't hurt its popularity either.

3. Blueberry Kush
Indica strain recommended by users for bedtime use because of it's soothing and full-bodied relaxation effect. Constant discomfort can leave you feeling tense and wound up. Blueberry Kush may be able to help. Along with potentially managing pain and treating insomnia, Blueberry Kush may be a good choice for ADHD, mood disorders, nausea, and headaches.

4. Cannatonic
Cannatonic contains less than 6 percent THC and will not induce a psychoactive high, making it a stellar daytime choice. High in CBD and terpene, Cannatonic is considered a restorative strain. A sought-after choice for chronic pain sufferers for its smooth, therapeutic effects.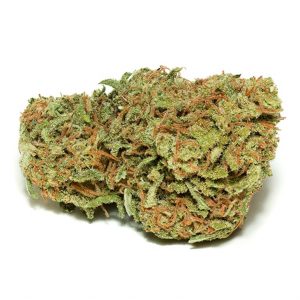 5. Canna-Tsu
Canna-Tsu, a sativa-dominant hybrid, is a favorite due to its minimal psychoactive effects and high CBD levels. With Canna-Tsu, easing pain symptoms does not need to halt the progress of your day or come with an inconvenient "high" feeling.
 
6. Harlequin
A strain users love for pain relief. Claimed to be chock-full of antioxidants and neuroprotective compounds, this multifaceted treatment option is perfect for people who don't enjoy the heavy effects of more THC-heavy strains. A mellow and balanced daytime option, Harlequin is often used by patients with neurodegenerative diseases, arthritis pain, or a brain injury.

7. Sour Diesel
A pungent-flavoured sativa strain also known as "Sour D," Sour Diesel is another one of the strains heavy in THC and low in CBD, making it a good daytime option.Though it is known to produce a psychoactive effect, patients state it is usually linked to an invigorating and energizing feeling and patients say it's a great option for pain without the heavy, sedated feeling.