---
Deals:
---
Ways to save:
GrowHealthy Littles™ - 1/2 an OZ for $99 or 1/8 for $35 (Available in-store only)
Littles™ is exactly what the name implies. Smaller-sized flowers of your favorite strains at lower prices like... 50% Off 1/2 Ounces & 30% Off Eighths! Sure, you like bigger flowers. Who doesn't? But we bet you'll like bigger savings even more. You get your favorite strains with the same: quality, potency, & terpenes you expect. The only difference is the size of the flowers – and the size of the price tag. Initial quantities are limited, so be sure to buy and try your Littles™ now!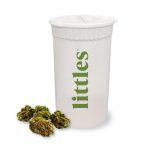 TrailBlazer™ - GrowHealthy's new rapid delivery service, is now being pilot tested in Orlando. We appreciate your help in testing this exciting new program. GrowHealthy is elevating patient care, safety, and convenience with an easy-to-use service that dramatically reduces delivery wait times.
---
---
At GrowHealthy, we are dedicated to helping our customers live healthier, happier lives. We produce premium-quality cannabis products designed to provide relief from a host of conditions and to promote general wellness.
Currently 12 stores open with 7 more coming in the next year.
Free delivery, no minimums.
Loose flower and pre-rolls
Excellent line of vaporizer cartridges with natural and cannabis-derived terpenes.
Tinctures in Indica(body), Sativa(mind), CBD and 1:1 ratio CBD: THC(Balanced)